Overview of Maine Seaweed Companies and Products
From fresh and frozen kelp for chefs and powdered seaweed blends and liquid extracts for people, animals and plants, to salty-sweet seaweed snack bars and melt-in-your-mouth smoked dulse, Maine seaweed companies offer a wide range of products that begin with Gulf of Maine seaweeds. Species utilized include Dulse (Palmaria palmata), Sugar Kelp (Saccharina latissima), Rockweed (Ascophyllum nodosum), Bladderwrack (Fucus vesiculosus), Sea Lettuce (Ulva lactuca), Laver or Nori (Porphyra species), Alaria (Alaria esculenta), Irish Moss (Chondrus crispus), Fingered or Horsetail Kelp (Laminaria digitata).
Some seaweed companies in Maine have been in business for decades, and some are quite new. They range in size from one-person artisanal operations to larger companies with national and global business. Many were started as family businesses, and most of these remain this way, in some cases passing down from one generation to the next. To learn more about products made with Gulf of Maine seaweed, and the companies that create and sell these products, see the links below.
Maine Seaweed Companies

SOURCE Maine specializes in exceptional nutritional supplements for you and for the animals you care for with all-natural micronutrients that are concentrated from nutrient-rich ocean plants.  We have been caring for and sustainably harvesting the same seaweed beds and their environment for decades. From the ocean waters to the final products, every step is committed to protecting the extraordinary nutritional powerhouse found only in ocean seaweeds.
4source.com

North American Kelp is a Maine-based company with more than 28 years of experience in processing kelp. The company harvests sea kelp from the same cold, clean waters that have been providing world-famous seafood for centuries. Our sea kelp is responsibly harvested and is processed to U.S.A. high quality standards.
noamkelp.com
Established in 1971, Maine Coast Sea Vegetables is a family run business specializing in sustainably harvested, certified organic seaweeds from the North Atlantic. We offer native species of Dulse, Kelp, Alaria, Laver, Sea Lettuce, Bladderwrack, Rockweed and Irish Moss in whole leaf and milled forms. Also Kelp Krunch™, a salty-sweet snack bar with no refined sugar, and Sea Seasonings® shakers of ground seaweeds and blends for cooking and sprinkling on foods.
seaveg.com

Ocean Organics makes science-driven, sustainable solutions for turf and agriculture.  Our approach is to tap into the efficiency of natural soil and plant relationships with products derived from seaplant and land plant extracts combined with traditional natural fertilizers.  We make liquid products for foliar, soil, and drip irrigation application and granulated natural based fertilizers.
oceanorganics.com

Vitamin Sea Seaweed is a small family owned 'ocean' company that has been marine based for over 30 years! We sustainably harvest USDA organic seaweed from the cold, pristine waters of Maine. We offer human edible native species, large animal and pet supplements, seaweed for lawn and garden, and rockweed for lobster/clambakes! We sell wholesale, retail, and in bulk sizes!
vitaminseaseaweed.com

Acadian Seaplants Limited is a multi-national, biotech manufacturer of quality, natural plant and crop biostimulant products, animal feed supplements, cultivated sea-vegetables and functional ingredients derived from select species of marine plants with operations in Canada, USA and Ireland.  It was founded in 1981 and exports to over 80 countries.
acadianseaplants.com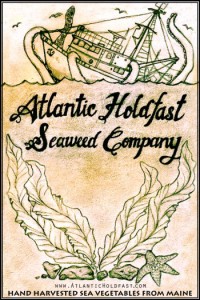 Atlantic Holdfast Seaweed Company is a small company working to sustainably harvest and distribute high quality, hand-harvested sea vegetables from the Gulf of Maine.  Our harvesting and drying operation is based on a remote island in outer Penboscot Bay, 7 miles off Stonington, ME, where the strong currents, active surf, and full exposure to the force of the open ocean have allowed these seaweeds to thrive for millenia.
atlanticholdfast.com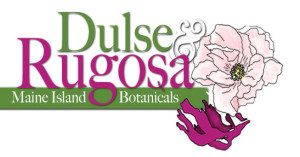 Claire and Carly Weinberg run the ocean inspired business, Dulse and Rugosa, LLC.  They make farm fresh, hand crafted skincare with a twist of nourishing Maine seaweed.  They grow or wild harvest the botanicals on their remote island farm, including the seaweeds.  Open a jar of Dulse and Rugosa skincare and be transported to a summer day in Maine.
dulse-rugosa.myshopify.com